Below, you'll find a summary of the rules of Spider Solitaire (1 suit). If you've played the game before, it should be enough to get you playing again. If you're new to the game, you should read our tutorial on how to play Spider Solitaire. The tutorial guides you through the rules in illustrated 9 steps and even contains a video, so beginners should easily learn the rules.
Unlike other solitaire games, this one is played with two decks of playing cards. The goal of the game is to move all cards to the foundation piles. The layout of the game can be divided into three main areas:
The tableau: This is where you'll make most of your moves.
The stock: From here, you'll draw cards that'll be moved to the tableau.
The foundation: In the end, this is where you want all your cards to go.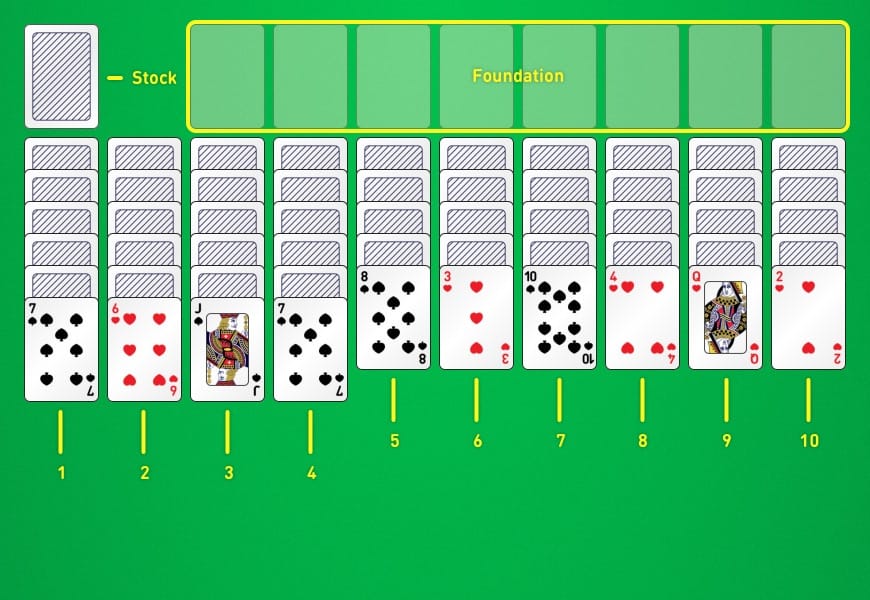 Cards can always be moved to a higher-ranking card. For example, if you have seven clubs, you can put it on eight clubs, eight of hearts, diamonds, or spades. As a result, multiple suits of cards can be stacked on top of one other. The game's goal is to make runs of cards from ace to king in the same suit. Once you have a complete sequence of cards, they can be moved to the foundation. Only if the sequence of cards is of the same suit will this happen.
If all of the cards in a run have the same suit, you can move them all simultaneously. For example, if you have the eight of spades through the six of spades, you can click and drag them all to a nine of any suit. You can't move them together if you have the eight of clubs, the seven of diamonds, and the six of something else. After that, you'll have to move them one at a time.
You can move any card or partial run to an empty tableau spot if you have one.
When you have no more moves to make on the tableau, you can click on the stock in the top left corner. That will move ten cards from the stock down to the tableaus, placing one card on each tableau. We don't recommend doing this before you're completely sure there are no moves left.